A low stress guide to dinner parties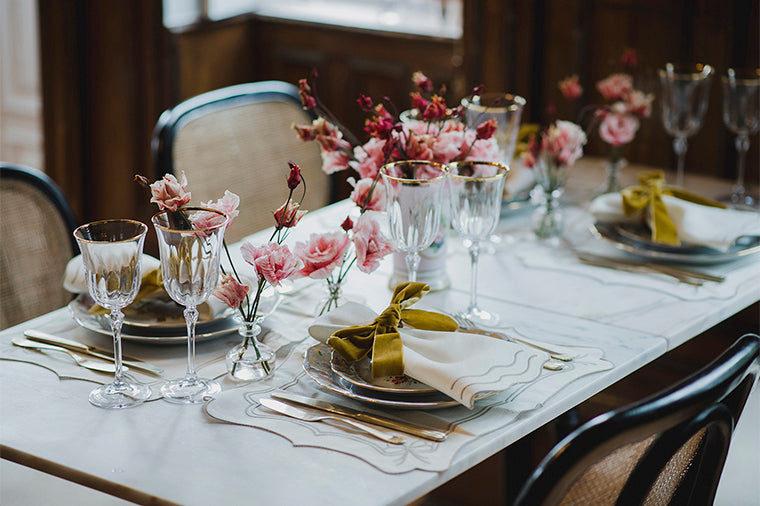 ---
The end of the year is quickly approaching, and that can only mean one thing - the season of
entertaining and dinner parties is just around the corner.
For natural hosts, hosting a dinner party is not just easy looking; it is actually easy doing. It is a heart-warming and exciting experience to look for, and a moment where they can put all their love and care out on a table for everyone to enjoy!
Here's how to easily put together an elegant event.
---
Tip nº1
SET THE TABLE
It can be dinner table, or, if you're limited on space and the guest list allows for it, a symbolic table will suffice, such as coffee table with floor pillows. A table acts as a gravity force, pulling the entire group of guests to converse together. Therefore, seating around a table while dining creates the best gathering experience. If you want to host a dinner where everyone leaves with the same memories shared and fun conversations, a maximum of 12 people sitting is advised - this is the maximum number of people you can sit around a table and still share a single conversation.
Tip nº2
LEAVE THE PHONES AT BAY
Any equipment that can draw people's attention away from the conversation (be it phones, smartwatches or others) should be kept out of the dining area. A good dinner party must engage people, and visual distractions will only do harm.
Tip nº3
USE THE SMALL TALK WISELY
Small talk doesn't have to be frowned upon - it can serve a big purpose, as wisely used it allows to fill in conversation voids and get guests to know one another better and find bigger topics that would be of everyone's interest.
Tip nº4
BUT DON'T FORGET THE BIG TALK
Big talking topics will be the most engaging ones, the ones where your guests will get more passionate about, and will allow the conversation to create more memories of the dinner, so, as the host, don't miss any opportunity to bring out a big topic!
 Tip nº5
MAKE THE MENU MEMORABLE
The actual meal is another key factor for any dinner that will make guests want to come back for more! Prepare a menu (or get a catered menu) that can be comprehensive in meeting the different tastes of your guests, that is intuitive, and made with meals that are approachable. No need to try and go on a fine-dining menu trip, that's not what your guests will be expecting, and that will not create that eagerness and fascination to repeat after you. A meal that people feel they can replicate, is one that they will more fondly appreciate and will be a major conversation topic. Get a few fine meats, a beautiful cheese selection, a few pies and pastries and a couple classic dishes you know everyone will love.
Also, go scarcer on the bread, especially before the main course, as it creates a tendency for some guests to dive in and keeps them from appreciating the rest of the meal as much.
---
REMEMBER...
NOTHING IS MORE UNFLATTERING THAN A STRESSED HOST! BE PREPARED & HAVE FUN!
---
SHOP THIS ARTICLE