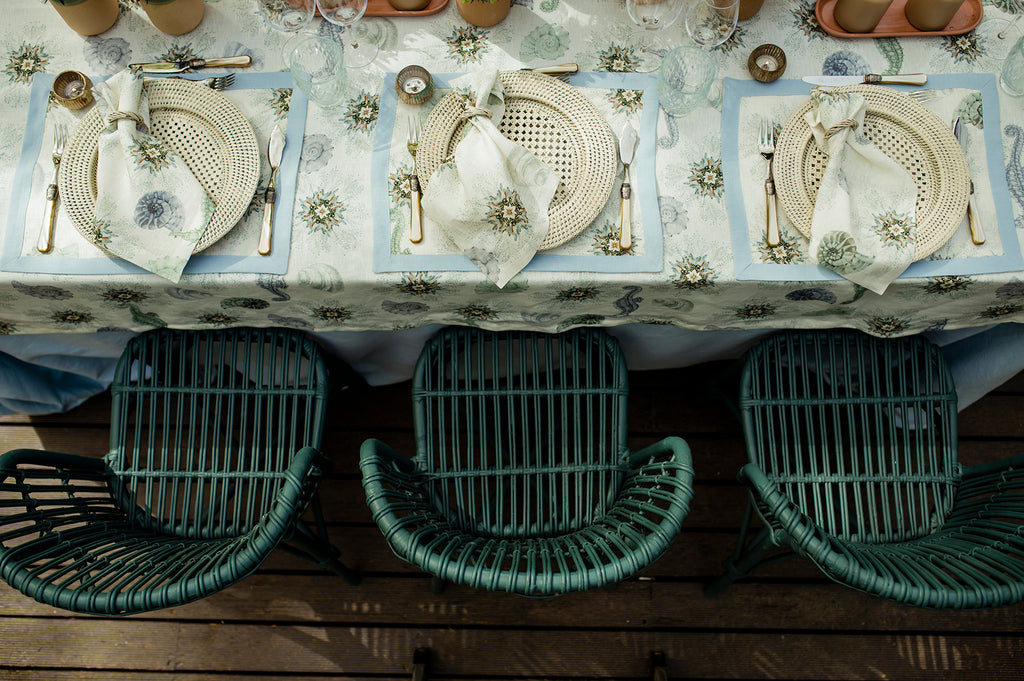 As Summer is at its peak, afternoons by the swimming pool in the backyard are as inviting as it gets! And while it is good to chill out and take some self time by the pool, weekend aternoons also call for relaxed family and friends reunions around the pool and chilling outside!
Take this time to create gattherings that are relaxed, with a casual mood, where everyone can bring their swimsuits and spend a joyful afternoon in between snacking and drinking at a lovely table and bathing in the pool and in the sun!
We love this time of the year, and we wanted to leave you with a few suggestions to create beautiful tablescapes that cater to the Summer feeling, where the table is not the at the spotlight of the gathering, but where it plays a gravitational role in bringing everyone around at times for joyous and light chats! 
1. SEASIDE ACCENTS 
You might be spending the afternoon by the pool, but it makes no harm bringing into your backyard some oceanside feeling! One of our favourite options is creating a light coloured tablescape with nautical motifs, like the rope-edged placemats and napkins, and for an extra touch, we tied the napkin folds with a cotton thin rope. Another option, is going with our ocean creatures set, with lots of shells, seahorses and seaweed motivs. 
Everything else on the table we keep light and casual - notice the minimal amount of elements on the table and that instead of a big centerpiece we scatter some plants along the table to make it much more casual and lively!
2. WOOD & RAFFIA
If you have a backyard with lots of greenery and shades, a long wooden table blends perfectly into the scenery and creates a more rustic appeal. We can't go without some Summery and oceanic vibes to match the season (in this case, with our set with seaweed motifs), but everything else is left more to the rustic and natural appeal - the use of wicker wrapped vases, rafia elements and plant elements that are less flowery, all of them bring up that rustic feeling.
3. EASY CENTERPIECES
Summer is a relaxed and casual season per excellence, and centerpieces need not to be too detailed nor planned. Nature has the best to offer on this department, so just go outside and pick a few beautiful flowers that match the theme tones of the table and add some extra greenery inside small and gentle vases to keep the whole mood of the gatherings super casual and light!
xx Caspisanti
SHOP THE TABLES