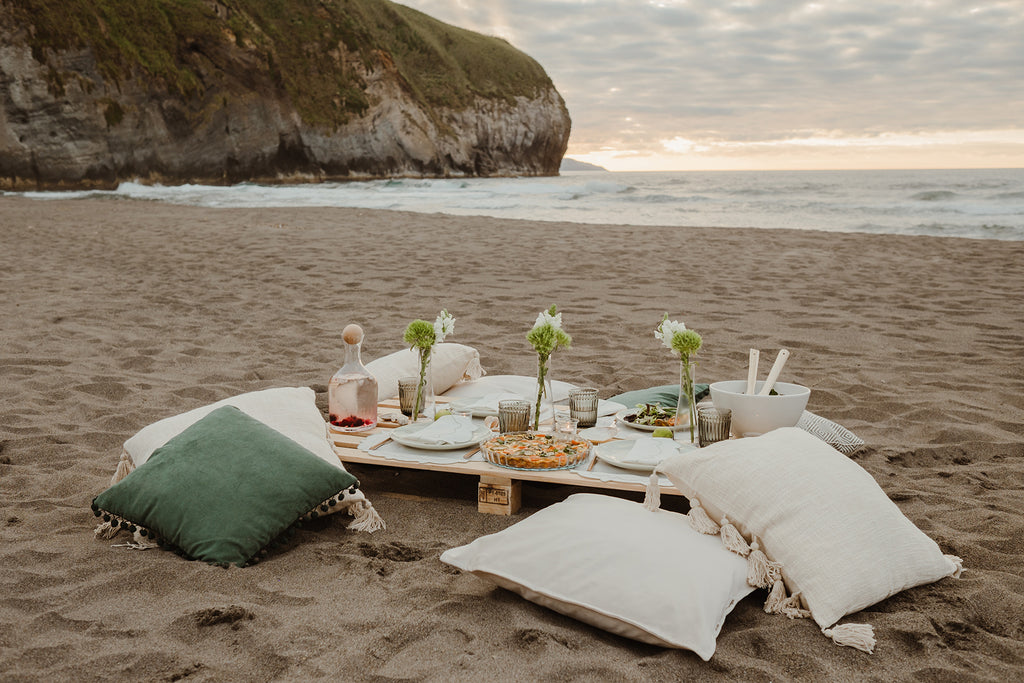 This Summer, why not setting up a table summer on the beach and bring our friends together by the sea?
Our table theme of choice was the tone sage green, and we heroed this color in a simple yet very fresh centerpiece. We served a super easy to cook but very delicious vegetable quiche for this dinner, with a fresh salad on the side. To make it completely comfortable, we went with lots of pillows all around the makeshift table.
Get inspired and take note of everything we used to create this dreamy setting.
SHOP THE TABLE LINENS
A quiche is perfect to bring to this type of picnics. It is easy to do and you can enjoy it warm or at room temperature too. 
This crustless vegetable quiche is very light, making it perfect for Summer early evening dinners. Take note of the ingredients and give it a try:
CRUSTLESS VEGATABLE QUICHE RECIPE
Ingredients
2 tbsp oil, divided (we used coconut oil)
2 small zucchinis, sliced into thin rounds
1/2 small onion, chopped
2 cloves of garlic, minced
150g baby spinach
150g small tomatoes, sliced into thin slices
1 tbsp fresh basil, minced + extra for garnish
8 eggs
1/4 cup milk
1/2 tsp salt
fresh ground pepper to taste
Instructions
1. Preheat oven to 180ºC.  Liberally grease a pie dish or quiche pan.
 2. In a large skillet, melt one tablespoon of fat of choice over medium-high heat.  Arrange zucchini rounds in a single layer on the bottom of the skillet and cook until starting to get brown. Flip the zucchini rounds and cook on other side. Remove from pan. 
3. Lower the heat to medium, add the remaining tablespoon of fat and cook the onions until translucent and beginning to get brown, for about 3-4 minutes.  Add the garlic and cook for one minute.  Add the baby spinach and cook until just wilted. Remove from the heat. 
4. Spread the onion/spinach mixture evenly onto the bottom of the greased quiche pan. Layer the cooked zucchini rounds and tomato slices on top - reserving a handful of each for the top. Sprinkle on minced fresh basil. 
5. In a large bowl, whisk together the eggs, the dairy free milk, salt, and pepper.  Pour the mixture over the top of the vegetables in the quiche pan.  Give a little shake to settle. Top with the remaining zucchini rounds and tomato slices. 
6. Bake it for 35-40 minutes, until the center is set. Let it cool slightly before cutting into wedges. Garnish with fresh basil. 
This recipe is by SavouryLotus
Gather your friends and enjoy a beautiful dinner while watching the sunset. This setting was very easy to put together and you don't need much, as you can see from the list above. Create unforgettable moments with the ones you like to spend your time with the most.
If you want to see some inspiring videos of this table setting, follow us on Instagram. 
#CaspisantiDreamSummer