Essentials for Valentine's Day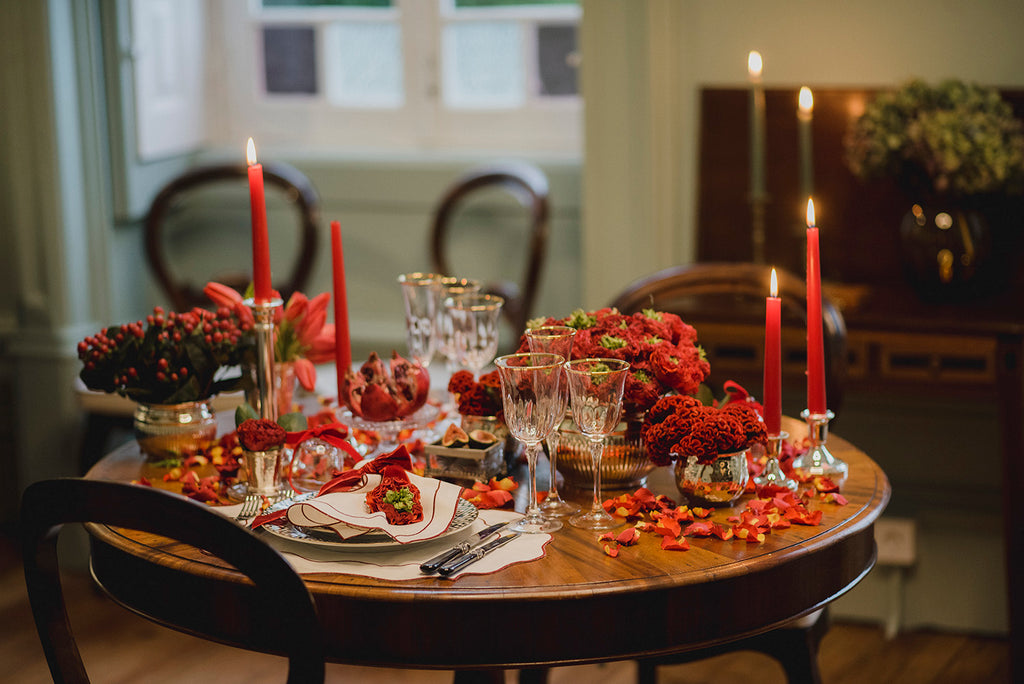 There is no other moment that naturally creates the environment for intimate conversations like a dinner for two - and Valentine's dinner is the intimate conversation event par excellence. 
Get ready for some inspiration and suggestions on how to create the most intimate and romantic tablescapes for a perfect Valentine's day (or for any other special occasion for the two of you!) 
1. THE PERFECT INTIMATE SPACE
The beautiful thing about the perfect space is that it varies from couple to couple - while for some a bright, grand and romantically decorated dining room, with warm and emotional decoration makes the deal, for others it might be a low light, candle-lit and serene room or a lust and folliage rich garden or greenhouse - the important factor to consider when choosing the place is going for something that pulls the emotional strings that connect you both. Emotion, on this evening, must be the backdrop for the rest of the scenery.
2. CANDLES ARE A BASIC NECESSITY 
Whether you go for low lighting or a bright ambience, candles are the warmth that transpires to the whole scenery. It is much less about the light they cast but more about the soft shades, the elegant movement, the dynamics they add to the otherwise still space, and that little sparkle of light that will make the sparkle between the two of you shine brighter.
3. FLOWERS, ESPECIALLY ROSES
Foliage of all kinds is a good option, but blossoming flowers represent a blossoming love and the ever-renewing passion between you both. There are certainly countless beautiful flowers, and there might be a special one that binds you together, but it's hard not to go with red roses - Nature is yet to create a more passionate, sensual and beautiful blossom.
4. RED IS THE COLOUR OF LOVE
Red is the universal color of love, of intensity and of that soul-flooding eagerness for your better half - that is the state of mind you want to get the two of you into on this dinner!
5. MUSIC FOR AMBIANCE 
The music is much like the space - it must be something that pulls a special string inside of you. It needs not to be something you already listen to or the couple's special song, but something that gives you subtle and almost unnoticeable shivers running up your spine and that will later transport you back to this very same special dinner. We love all of Yiruma's work and there is obviously one piece of music - "River flows in you" - that is an essential and one of our favourites. 
Have a special Valentine's Day!
xo Caspisanti