Creating the Perfect Mood and Style For Your Wedding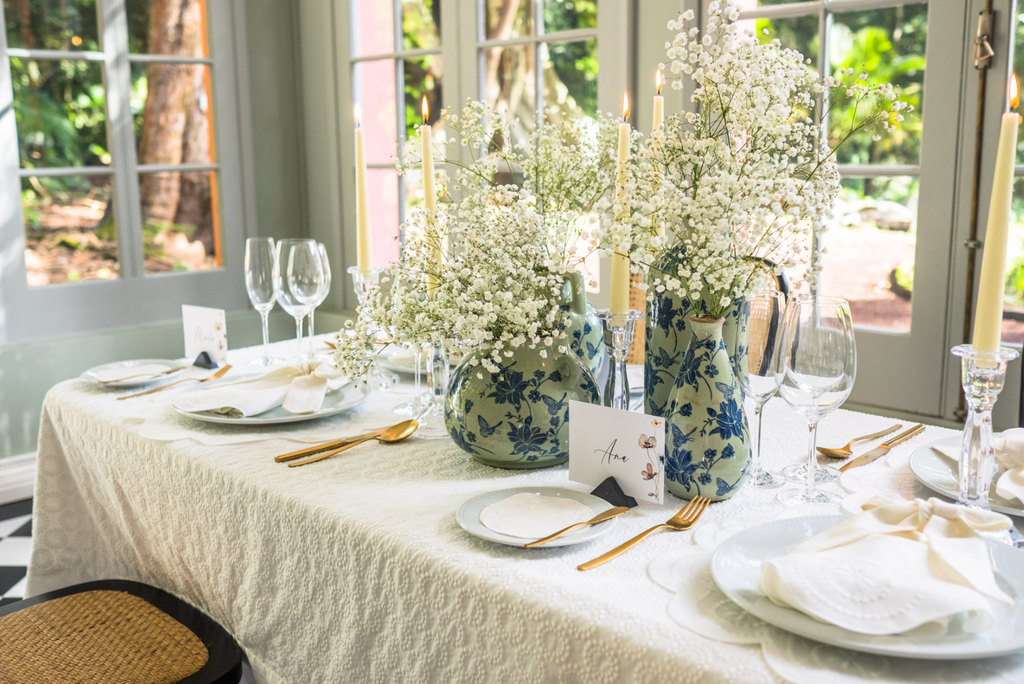 Table linens play a crucial role in setting the tone and style for your wedding reception. From classic white to bold prints and romantic florals, there are countless options to choose from. At Caspisanti, we understand the importance of selecting the perfect table linens to complement your wedding style. In this post, we'll discuss how to choose the right table linens for your wedding, taking into account the different moods and styles that our wedding collection offers.
Pure White
Classic and Minimalist For the classic and minimalist bride who loves simplicity, our Pure White collection is the perfect choice. White table linens are timeless and elegant, providing a blank canvas for other decor elements to shine. You can enhance the minimalist look by adding metallic accents, such as silver or gold flatware, or by incorporating natural elements like wood or greenery. With our Pure White collection, you can achieve a classic and sophisticated look that will stand the test of time.
Classic Eden
Bold and Vibrant If you're looking to make a statement with your wedding decor, our Classic Eden collection is the perfect choice. Featuring bold colours and prints, our Classic Eden linens will add a touch of drama and sophistication to your reception. The deep blue and parma yellow floral prints and embroidery against white linen create a stunning contrast that will be sure to impress your guests. To enhance the bold and vibrant look of the Classic Eden collection, consider adding statement centerpieces, such as tall floral arrangements or oversized candlesticks.
Romantic
Delicate and Dreamy For the romantics at heart, our Romantic collection is the perfect choice. Featuring pink floral prints and delicate touches, our Romantic linens will create a dreamy and romantic atmosphere for your reception. To enhance the delicate and dreamy look of the Romantic collection, consider adding vintage-inspired decor elements, such as lace table runners or antique candleholders. Soft lighting and pastel-coloured floral arrangements will also complement the Romantic collection perfectly.
Choosing the Right Table Linens
When choosing the right table linens for your wedding, it's important to consider the overall style and mood you want to achieve. Consider the colours and patterns that will complement your wedding theme and enhance the look and feel of your reception. You may also want to take into account the season and venue of your wedding. For outdoor weddings, lightweight and breathable fabrics like linen or cotton are ideal, while indoor weddings can handle heavier fabrics like velvet or satin.
Choosing the right table linens for your wedding can make all the difference in creating the perfect mood and style for your reception. At Caspisanti, our wedding collection offers three distinct styles to suit any bride's taste: Pure White for classic and minimalist looks, Classic Eden for bold and vibrant looks, and Romantic for delicate and dreamy looks. With careful consideration of your wedding theme and style, you can select the perfect table linens to complement your special day. Browse our wedding collection today to find the linens that will make your wedding reception unforgettable.