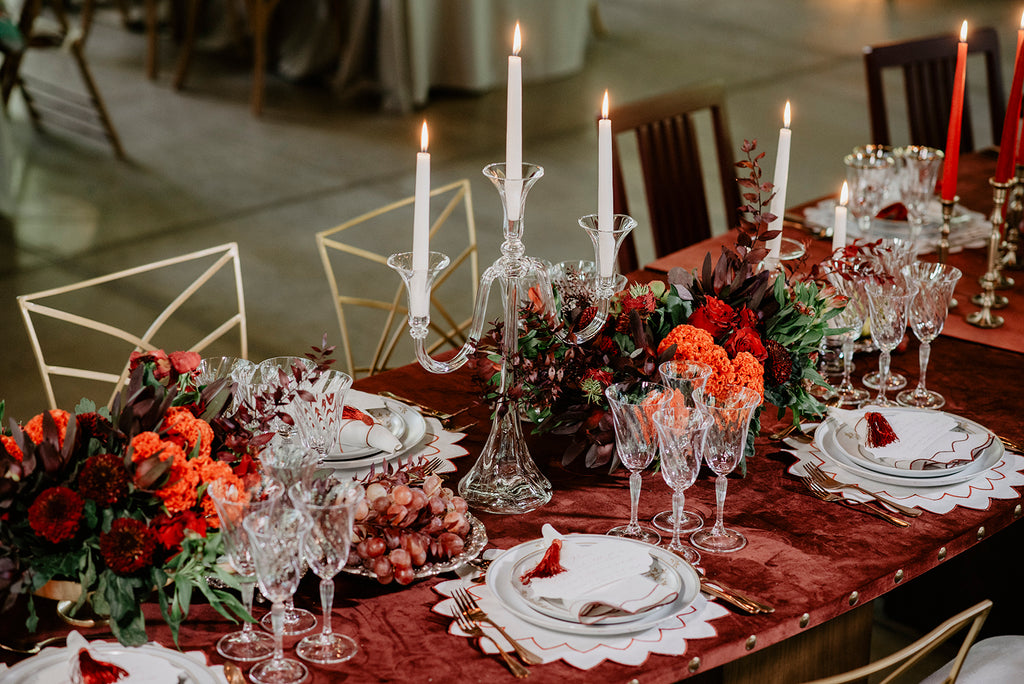 Thanksgiving is just around the corner and while this year it will definitely be a different one, there is no reason why we wouldn't want to bring all those who are closest to us around the most beautiful, harmonious and rich table! 
It is true food is at center stage on Thanksgiving Day, but the dinner table is what sets the right mood for such a festive holiday - it appeals to all the senses, whether it is for its bright colours or for the different textures in its different elements. 
We have prepared a beautiful crimson chic table setting for this special time of the year for you to draw inspiration from. But if you would rather go with a different colour theme for your table, we have listed the 5 key steps for creating a beautiful table that will be the stage of a gathering with the ones you most love, and which will convey a message of gratitude and communion. 
1. Choosing the tablecloth
The tablecloth is the foundation for any table setting. It will define the colour theme for the whole table, and its richness of texture (or simplicity) speak worlds about the mood you want to set for your event. While a family gathering, Thanksgiving dinner is also the perfect occasion to give the best you have, so we would suggest a tablecloth with a plain colour but with intricate details and different textures, that feel luxurious to the touch and which will certainly give your guests the feeling they are as important to you as no one else.
2. Create balance in colour and set the right landscape for your food
The dishes are another key element for any dinner, and on the Holiday that is most notably about the food, they must be adequately chosen to let food shine. If you go with a darker colour theme, be sure to choose white or clear dishes. This will not only serve as a balancing element on the whole table setting, but will also be the individual focal point of each of your guests and will surely be the best backdrop for the delicious food you will serve up.
3. "Dress up" the dishes for the occasion
A delicate table setting values the details, and creating the perfect individual setting is as important as the whole theme of the table. Choose placemats that are refined on its materials and on its finishing touches, and complement with beautifully matching napkins. These two elements will probably be two of the most sensorial pieces for each of your guests, so presenting them with luxury linen options, with embroidered details that enhance its texture and its shape.
4. Food also decorates
Presenting food in a beautiful way is also a key aspect of any special dinner table. For a Thanksgiving tablescape, season fruits can create a scenery so magical and almost mythical, and that is our choice of excellence. Make sure to plan for how you are going to display them - it your other decorative elements are essentially laying across the table, raise the fruits in a beautiful metallic or crystal jar and leave some of them hanging to create a more dynamic feel. If, otherwise, you have lots of vertical elements on your table already, simply lay the fruits low across the table.
5. Complement with fine details
A Thanksgiving table decoration is prone to have lots of elements, so do not be afraid to tread even further your own table setting. Adding further elements is an exercise of exploration, and do not hold yourself - explore different textures, materials, elements and colours. Often, these finer touches give an extra dimension to the whole table, and will give it a signature of your own!
We would love to see your beautiful ideas and make sure to stay attentive to our tips during the next couple of weeks!

From our family to yours - have a wonderful and love-filled Thanksgiving in the company of those who are most important for you!
SHOP THE "CRIMSON CHIC" THANKSGIVING TABLESCAPES