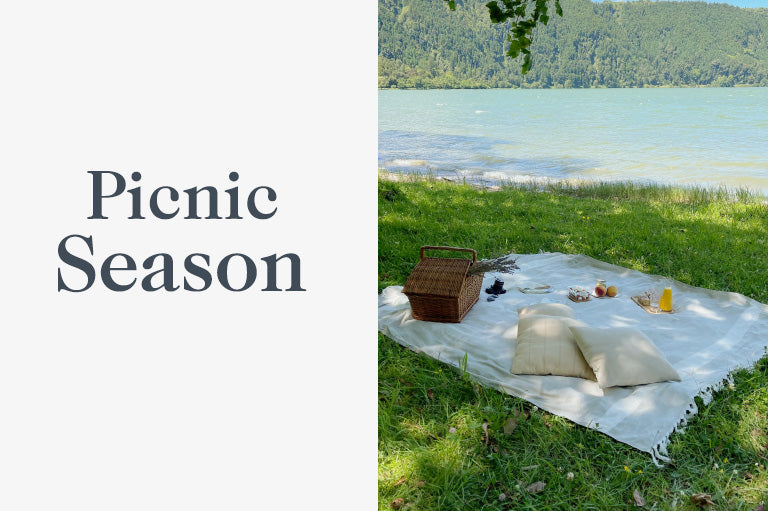 Summertime is the perfect time to enjoy a picnic in the countryside by the lake, under the fresh shade of trees and immersed in the smell and aroma of the vibrant green Nature!
We prepared a few tips to throw a small picnic gathering with the ones closest to you or a few select friends and enjoy a super chill afternoon!
1. ITALIAN PRESSED SANDWICHES
We like to make things easy, and there's nothing easier to make and eat than a few light and delicious sandwiches. 
As always, we love to make everything look pretty (after all, the eyes are the first to eat the food and only then the mouth does). These small, 2 or 3 bites sized sandwiches, wrapped in kraft paper and tied together with a beautiful little bow tie, are the perfect picnic lunch! We like to serve them fresh, and that's why we make them the day before and let them stay overnight in the fridge inside a well sealed container and get them out in the morning just before heading to our picnic! They are also endlessly customizable, so you just need to use your imagination to make them super tasty and prettty and match your picnic theme.
INGREDIENTS
Turkey ham (Or your favourite a

ssorted Italian deli meats)
R
ed peppers with vinegar (we used the jars ones)
Arugula
,
rinsed and patted dry
HOW TO
1. Assemble the sandwich
2. Before cutting the sandwiches, wrap the Ciabatta bread tightly with plastic wrap & place it on the refrigerator for a few hours with something heavy on top, so the sandwich can be pressed.
3. When ready to serve, remove the plastic wrap. If desired you can trim the sides and ends of the sandwiches, so you enjoy the wonderful colours of the sandwiches.
4. For a final touch, we served ours wrapped with brown paper & a
pretty bow.
 2. CAPRESE SALAD
A fresh salad is always a must in Summer, and a caprese salad with cherry tomatoes is a delicious way to use any excess tomatoes (we did happen to have a few spare) and this picnic salad is a breeze to make.
This perfect make ahead picnic salad recipe is ready in just under 10 minutes and will be a beautiful addition to the whole lunch! You can even prepare it right on the spot!
 INGREDIENTES
Cherry Tomatoes 
Mozzarella balls or Fetta Cheese
Olive Oil
Basil 
HOW TO
Combine all the ingredients in small cups with lids or a large bowl with a lid.
Pack bowl(s) in cooler for transport to picnic or place in refrigerator until serving time.
SHOP THE LOOK 
Enjoy it! xx Caspisanti