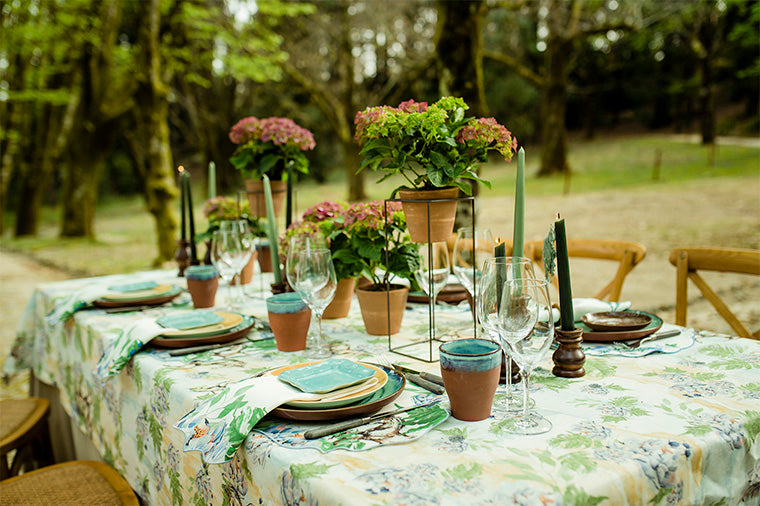 We love entertaining in the Summer - it's true we do love entertaining all year round, actually, but the Summer is always a special season for getting people together! In the Summer, the sun lingers for longer on the sky, the food is made with the most fresh and most delicious ingredients, there's a sense of relaxation in the air and it all calls for eating outside.
And outside we can take the most of what Nature has to offer - setting the table on the garden, with greenery and freshness as backdrop; complementing with flowers for an effortless and vibrant centrepiece; filling the table with juicy fresh food and mixing up some sangria... it doesn't take much from us to set an inventive table setting.
Get inspired by the three suggestions we have for you!
BLENDED WITH NATURE
Sometimes going minimal is the best choice! If you are setting your table in a plain background, like a wide mowed grass area, you can create a table that almost fades into the landscape, with soft earthy colours and a few greener elements to highlight that sense of freshness. Going with a minimal amount of elements on the table can also help create a more relaxed feeling for everyone around it, allowing for conversations that flow into the wee hours, and when you notice, time has flown by, and that's the best feeling you can get when you are bringing together the ones you love around a table!
SHOP THE LOOK
IMMERSED IN THE COUNTRYSIDE
If you are throwing a Summer dinner in your fully blossomed garden, then mixing in with the environment will create a sensation of seamless flow between the table and the garden itself. This is perfect to throw a laid-back dinner party, as the boundaries between table and garden will fade away and it will give rise to a very dynamic dinner, with people eating at the table, by the table, swapping seats, having mixed conversational groups! 
If this is what you are looking for, don't get to fixated on the perfect symmetry of the table - after all, it will soon get asymmetric with so much moving around! Create a table that feels like the garden, lay it over with a flowery tablecloth, fill it with beautiful and luxurious flower arrangements for centrepieces and throw in a lot of color with the plates and glasses - if they are all different from each other, that's even better! Don't forget people will be moving around quite a lot and with differentiated colours for the plates and glasses, everyone will easily identify theirs!
SHOP THE LOOK
BRINGING THE SEA TO THE FOREST
Another idea is mixing up concepts! Think of two ideas that scream Summer but wouldn't necessarily be thought of together. in our case, we decided to mix up the freshness of the shades of trees with the saltiness and heat of the ocean side! The end result is a table setting that is raw in a raw environment, with the wooden table letting show its beautiful timber color, bare of any tablecloth, and complemented with elements that ended up working perfectly in tandem - our sea breeze table linens, with seaweed motifs in khaki and old pink tones that resemble drying seaweeds in the sun, alongside with an array of straw vases with small plants, that create a fluid, homogeneous set of centrepieces instead of a big notorious centrepiece that would drive people's attention away from each other! 
SHOP THE LOOK 
Keep it simple and enjoy your garden this Summer time!
xx Caspisanti