Cozy indoors St. Martin's Day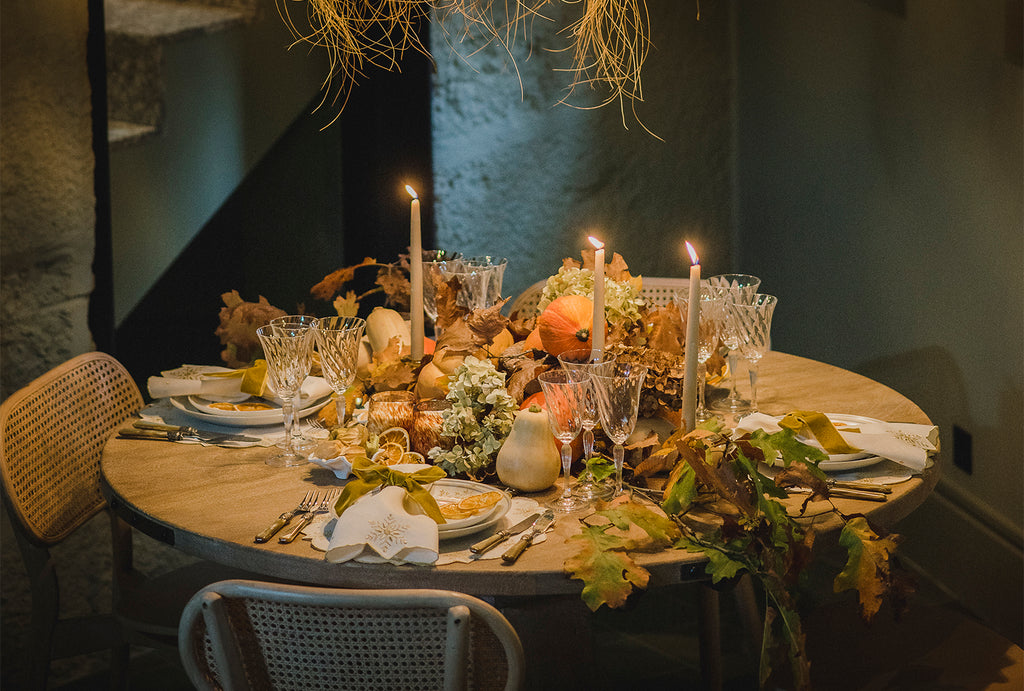 The chilly weather is here, so there's nothing like a warm, joyus celebration indoors around a beautifully decorated and cosy table!
As we are steadily and inexorably approaching Winter, with Nature taking on these warm and harmonious tones that we love, this year we created a St. Martin's Day table with natural forage and Autumnal elements so we could bring the spirit of the season from outside in.  
These are out steps to create a beautiful St. Martin's table:
STEP 1: CHOOSE THE COLOR PALETTE
As you would expect, our color pallette revolved around golden, brown-ish and orange-ish tones, just beautiful colors that are calming, but also very charming and create an understated luxurious tablescape with just the right Autumn feel. 
STEP 2: CREATE A FORAGE CENTERPIECE
We went with a super natural table centrepiece, using dry elements, like small branches and leaves, and dried-out hydrangeas. To complement it all, we added some pumpkins of different sorts to create a balanced and rich environment.
STEP 3: CREATE A COZY AMBIENCE
We love candles, and we love to add them to our tablescapes, and this St. Martin's day was no exception. We went for smaller candles with pumpkin spice scent, which for us is just the right smell of the season, the one that always transports us back to childhood memories of this time of the year, and which leaves all of the ambience around even more harmonious.
STEP 4: ADD A NATURAL DETAIL ON THE PLATE
To add an element that could cater to the visual, smell and taste of our table, we added a couple dried orange slices to each plate, which will add that citric freshness of taste and smell to each guest's sitting place, perfectly complementing the candles scent, and adding an extra touch to the plating visuals.  
STEP 5: ADD A 
COMPLIMENTARY DETAIL
As our final touch, we used small side plates with Autumnal fruits, and we chose the groundcherries still inside their covering, providing a frail but beautiful textural addition to the whole mood of the tablescape and a nice little appetizer for our 2021 St. Martin's table.
Have a lovely St. Martin's day! 
xx Caspisanti
SHOP THE ST. MARTIN'S TABLE